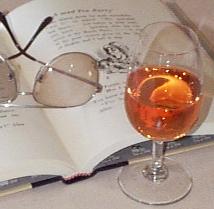 Mead is a fermented beverage made from honey. It is believed to be the oldest fermented beverage, first made before the dawn of written history. There is accurate evidence of meadmaking more than 5000 years ago.
You can think of mead as a honey wine. It is not necessarily sweet, since the honey is fermented. It can range from as sweet as a dessert wine to bone dry. Fruits or herbs may be added to the mead as it ferments, producing a fascinating variety of styles.

Locating information about mead
The Mead-Lover's FAQ (Frequently Asked Questions) contains more information about the types of mead, ingredients, and especially methods for making mead. A copy of this FAQ was sent to everyone who signed up for the Mead-Lover's Digest. However, see the note below: The MLD shut down as of the end of 2013. Also, the FAQ itself is rather dated, being last revised in 2000.
Your local homebrew or winemaking supply shop is likely to have a few books on mead-making. If you're going to start making mead, you'll want to read with a critical eye, and preferably read more than one source. Some of the books available recommend techniques and ingredients that are questionable at best. Here are a few books we like:
The Compleat Meadmaker, Ken Schramm, Brewers Publications. ISBN 0-937381-82-9. New in 2003. Finally, a comprehensive book about making mead that we can recommend without reservation!
Brewing Mead/Wassail! In Mazers of Mead, Lt. Col. Robert Gayre and Charlie Papazian, Brewers Publications. ISBN 0-937381-00-4. Most interesting for the first section, which is a long treatise on the origins, changes, rise and fall of mead through history.
Making Mead, Bryan Acton and Peter Duncan, Amateur Winemaker Publications. ISBN 900841-07-9 (UK). An older book, but simple and straightforward, and with a lot of recipes and recipe-ideas.
Making Mead (Honey Wine), Roger Morse, WICWAS Press, ISBN 1-878075-04-7. Different information and a bit more thorough on the background of mead-making. Beware of a rather heavy hand on the additives.
Zymurgy (the magazine of the American Homebrewer's Association) occasionally has articles about mead-making and recipes used by competition prize-winners. Information on the AHA is available at the Association of Brewers home page.
Is mead-making strictly an amateur craft? No. While there aren't a lot of commercial meaderies, there are enough that you may be able to find commercial mead in a local shop or by visiting a winery/meadery. Here is an old directory of commercial meaderies compiled by Dan McFeeley. Note that it was last updated more than 10 years ago.
talisman.com ran the Mead-Lover's Digest, an e-mail forum for mead-makers and mead-lovers to discuss all aspects of mead: recipes, ingredients, techniques, and history. Most of the day-to-day discussion tended to be about making mead at home.
As of the end of 2013, the Mead-Lover's Digest shut down, due to lack of submissions and long gaps with no material. The archives of the MLD will remain in place.
The Digest was a non-commercial, strictly volunteer effort by/for mead folk. It was started in September, 1992 and handled for the first 200+ issues by John Dilley. Dick Dunn took over in October, 1993, and continued through 2013.
Digest Archives
Archives of all issues of the MLD are available.

Digests from the current year are available here. As of the shutdown at the end of 2013, the "current year" will remain as the digests for 2013.

Compressed archives of past years are available here in two formats. For Macs and UNIX-like (Linux, etc.) systems, or if you've got tar and gzip available, click here for .tar.gz archives. For older MS-DOS/Windows systems or if you've got zip, click here for .zip archives. If you have a choice, the .tar.gz archives are preferable because they're substantially smaller. Each file contains the digests for one year.

You are visitor number
to this page since March, 2002.